---
Encounters – Optimized Workflows for Documenting Patient Visits
The encounters component of the Dashboard is your daily workhorse for documenting patient visits. Create and record an encounter with a patient by selecting the appropriate SOAP categories (Subjective, Objective, Assessment, Plan). To save time you can create and select templates to use for data entry. For added convenience, Encounters gives you direct access to lab results, medication history, the CPP, clinical orders, referral letters and prescriptions.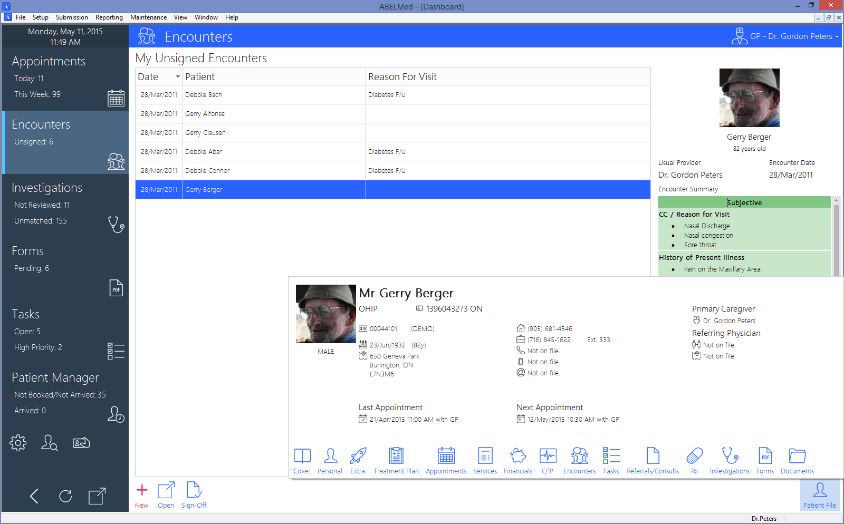 Customized Viewing
For custom viewing, when creating a new encounter, windows can be placed in a different position and or made larger by dragging the chosen cell. For example, moving the Encounter History window beside the CPP window and resizing them based on the volume of information gives a detailed patient history all in one convenient viewing area. You also have instant access to SOAP categories – these can be expanded or collapsed as needed by clicking on the available check boxes. You can also change font size settings for various sections depending on preference. To speed entry of detailed encounters the template selector allows you to select multiple templates for one single patient visit.
Functionality At Your Fingertips
You can also use a patient's past encounter as a template for a current visit. The Encounter section also allows you to graph vital signs – simply select which vital signs you would like to graph along with the date range. View lab results and filter for only the ones you need to see. The Medications History review button reminds providers to review the patient's prescription history and if necessary, inactivate those no longer required. The New Clinical Order button allows you to order any applicable lab tests. When selecting a particular test request, the appropriate form auto populates with the provider and patient information. Finally, you can easily send a consultation referral letter incorporating the relevant encounter notes you have made.
Time Saving Templates
A simple Narrative can be used for free form typing or voice dictation of information such as reason for the patient visit and the chief complaint. However, ABELMed also utilizes templates for efficient recording of detailed patient visit findings. Encounter templates are made up of one or more "finding templates" that save time when recording patient encounter findings (observations, conclusions and recommendations). Encounter templates can also be categorized by parameters such as age or gender so that only relevant templates appear based on the patient demographic profile. In summary, Encounter Templates are the key to recording patient encounter information in ABELMed quickly, efficiently and accurately.